Importance of Mattress
Tuesday, July 2, 2019
Are you tired?
Do you know we spend almost 35% of our life on Mattress? And if the mattress is comfortable and as per our requirement, it can play a vital role in our success or keeping us healthy.
This is why Mattress is a very important item in our life, isn't it?
So, don't you think if we have a good mattress, we can have good & tight sleep, good sleep means we can perform better in our life, whether it is professional life or personal life.
Are you thinking, we are in the Furniture business, and telling you the importance of Mattress? Sit back and relax, we will come to that too. Wooden furniture & mattress are inseparable parts and we need both to make a better living home.
Types of Mattress
Coir Mattress: This mattress is made of coconut coir and it's made up of 100% natural material.

Coir with Foam: This mattress is a mix of coir on one side and foam on another side. And it can be                                                used from both sides, coir side is a bit hard and foam side is soft.
        
  Foam Mattress: These mattresses are made with the hard form at the center and
                                    a layer of 10 to 25mm of soft foam over it.
       
Bonded foam mattress: These mattresses are the hardest mattress in the foam segment,
         the bonded foam is made by the used foam, scrap of foam. These foams are cut by a shredder in
small pieces and then shaped in sheet size according to requirements with the help of glue.
       
Spring Mattress: Mainly two types of spring mattress are available i.e. Bonnel spring & pocket spring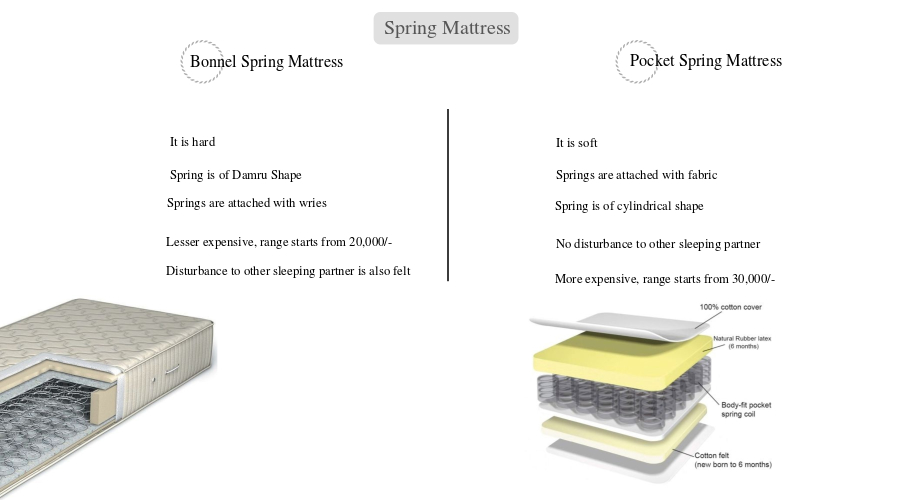 Lack of sleep and brain drain

It is tough to get through the day when you are short on sleep and a sleep deficit affects every system of your
body. Lack of sleep influences not only your physical health but emotional health as well. The complete impact
of a rough night isn't always evident, but there can be serious long term health issues.

Science explains what happens to your body when you're short on snooze

If you keep on working day in and day out, skipping on sleep can give you long term bad health. It reduces your memory, working efficiency, short life span and other. Sleep deprivation means a 40% increase for risk of developing heart disease, a deadly condition which must be avoided.
You can buy our bed for above mattress, if you need any other help then please contact us