How Wooden Furniture is Manufactured?
Wednesday, May 17, 2023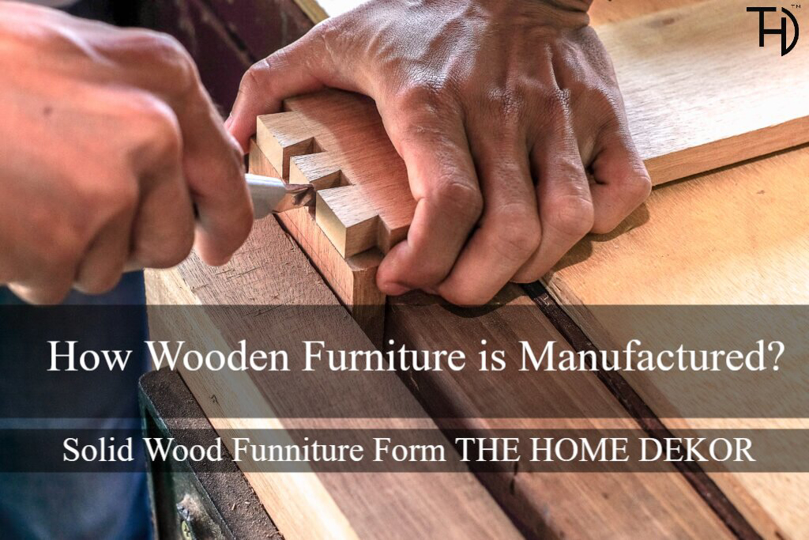 Furniture made of wood has been a common feature in homes for a long time. From the rustic look of log cabins to the exquisite styles of Victorian houses, wooden furniture has proven its long-lasting appeal. Have you ever thought about the process of making these furniture pieces? In this blog, we'll take a deeper review of the background behind wooden furniture, look at the different kinds of wood used in the production and then unravel the intricate process that creates each piece of furniture. So, sit back, unwind and discover why wood furniture is a favourite for interior designers and homeowners alike!
The story of furniture made from Solid wood
The use of wood for furniture production since the time of the ancients. The first furniture pieces were found in Egyptian tombs and date back to 3000 BC. Because of its beauty and durability, the pieces were constructed primarily out of ebony, a sought-after material.
In the Middle Ages of Europe, the furniture made of wood got more sophisticated because skilled artisans started experimenting with intricate techniques and designs, such as cutting and laying. In the Renaissance, woodworkers designed exquisite furniture for palaces and wealthy patrons with exotic woods like Sheesham, Acacia, Mango, Teak, and mahogany.
The 18th century saw the mass production of wooden furniture started with the introduction of machines to replace hand tools in factories. This resulted in a rise in the business as furniture became more affordable for middle-class households.
The wooden furniture of today is well-liked by homeowners because of its flexibility in design, durability, and natural appeal. From traditional old-fashioned designs to contemporary minimalist styles, choices are abundant on the market, catering to all tastes and preferences.
The various types of wood used for furniture
Wooden furniture has been used for a long time, and many different kinds of wood have been utilized to make beautiful furniture. The most sought-after woods used to make furniture made of wood include Sheesham, Acacia, Mango, mahogany, cherry, oak, maple, and pine.
Sheesham wood is grown in the northern part of India and Nepal. This wood is best because of its elasticity and oil content in it, This wood has beautiful grains, you can know more about this in our Blog:- Sheesham Wood from Oxygen to Commercial
Acacia Wood is a less watering plant and is mainly grown in the desert of Rajasthan India. This is one of the hardest woods on earth.
Mango wood is the best wood if we care for the environment because the mango tree is cut only after its death, no farmer cuts a mango tree if it a alive, it gives the delicious king of fruits i.e. mangos.
Mahogany is renowned for its deep reddish-brown hue and long-lasting durability. It is often used in furniture of high-end quality because of its elegant appearance.
The oak is a durable wood and is commonly used in furniture of the traditional style. Its grain pattern gives individuality and character to the furniture it's made into.
Cherry is a popular option for wood furniture makers due to its natural appeal. The soft red hue of the wood intensifies when exposed to sunlight.
The maple grain is a straight pattern that gives it smooth, polished surfaces when sanded properly. It is often used for accent wood or veneer material due to its toughness.
Pine is a different kind of wood used to make beautiful and simple furniture pieces, such as bookshelves or cabinets, due to its low cost and accessibility.
Each kind of wood comes with distinctive characteristics that make it appropriate for particular furniture styles. Wooden furniture can be made from different kinds of hardwoods based on their intended purpose, whether they're intended to be functional or decorative. There's always the perfect type of wood available!
How do you make furniture from wood?
Furniture made of wood comes in various styles, designs and styles. The process of making wooden furniture is complicated and requires some steps. Here's a brief overview of how wood furniture is made.
The first step involves deciding on the best wood for your furniture. Different kinds of wood can be utilized for various purposes and styles. For example, Sheesham is ideal for sturdy chairs, whereas mango wood could be a great choice for tables that are light in weight.
After the right wood is selected and cut into pieces under the dimensions desired using specially designed saws and cutting equipment, this process requires precision because any mistake could ruin any piece.
Once the lumber has been cut, it's time to mold it into the final shape with sanders and routers. These create smooth edges and surfaces. The next step is to combine the pieces using nails or screws to make an extremely sturdy framework.
Final touches like painting or varnishing are applied to enhance the product's look and guard against wear and tear over time.
In short, the process of making wooden furniture requires an understanding of woodworking techniques, as well as artistic abilities. It takes patience and a keen eye from beginning to end, resulting in stunning products that hold up to the test of time if maintained appropriately.
The advantages of furniture made from wood
Furniture made of wood is the preferred choice of many homeowners because of its timeless style and strength. Apart from these attributes, many other advantages help distinguish wooden furniture from other furniture styles.
One of the major benefits of furniture made from wood is its flexibility in terms of design. With various types of wood that are available, you can choose from an array of designs and finishes to pick from. Wooden pieces are either simple or complex in their design, making the perfect furniture for any modern or traditional interior.
Another benefit is the ease that wooden furniture can be maintained. Wood naturally repels dirt and dust, so cleaning is effortless. Also, small scratches on wood surfaces are easily cleaned without worrying about ruining the piece's integrity.
Furthermore, it is an eco-friendly substance that does not release toxic chemicals into the atmosphere compared to synthetic materials used in furniture items such as metals or plastics. It also encourages sustainability as it is trees that are renewable.
Furniture made of wood has a lot of value in the long run because it can age gracefully when given good care and will maintain its beauty even after many years of usage.
The choice of furniture made from wood provides numerous advantages that go beyond aesthetics. They're also versatile, providing durability and minimal maintenance requirements while promoting sustainable development.
Conclusion
Furniture made of wood has been an element of our lives for a long time. From basic design to elaborate carving, wood furniture can bring warmth and sophistication to any room. Making wooden furniture requires many stages that require skills and experience. It is essential to select the best type of wood to make furnishings based on their longevity, strength, and appearance.
There are many advantages to using wooden furniture in your office or at home. It not only provides visual appeal, however, but it's also durable and long-lasting. Furniture made of wood can endure wear and tear and retain its elegance.
Alongside being eco-friendly and sustainable, furniture made of wood provides a unique style that other materials can't match. If you like minimalistic designs that are modern or rustic, there's always something made of wood that can be a good fit for your tastes.
In the end, if you're seeking high-quality craftsmanship and classic design. Investing in wooden furniture is a good idea if you're looking for timeless design and quality!