FAIR TRADE & ETHICAL SOURCING
The Home Dekor strongly believes in fair trade & ethical processing of our products.
Fairtrade is neither a charity nor a compromise. It is a real delight and you will be proud to welcome home. The Home Dekor brings more jobs, more trades, and more financial stability not just for the company but for the families of our employees, our suppliers & the community that it supports.
Sourcing Timber
All our quality wooden furniture is made from richly grained Sheesham wood, Acacia Wood & Mango wood. Which is sourced legally with chain documents. (From farmer to market, market to sawing machine, factory to furniture industries and finally to importer or consumers)
    
FSC Certificates (Wood Legality)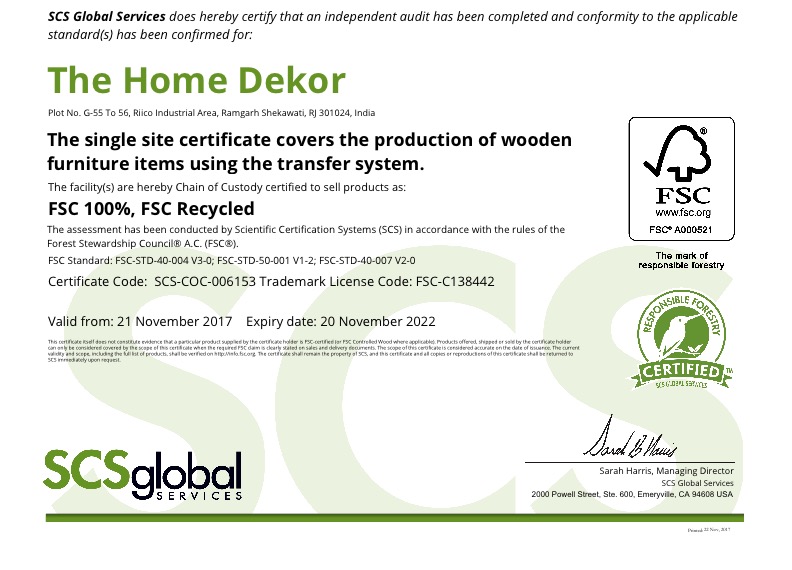 Vriksh Certificates (Wood Legality)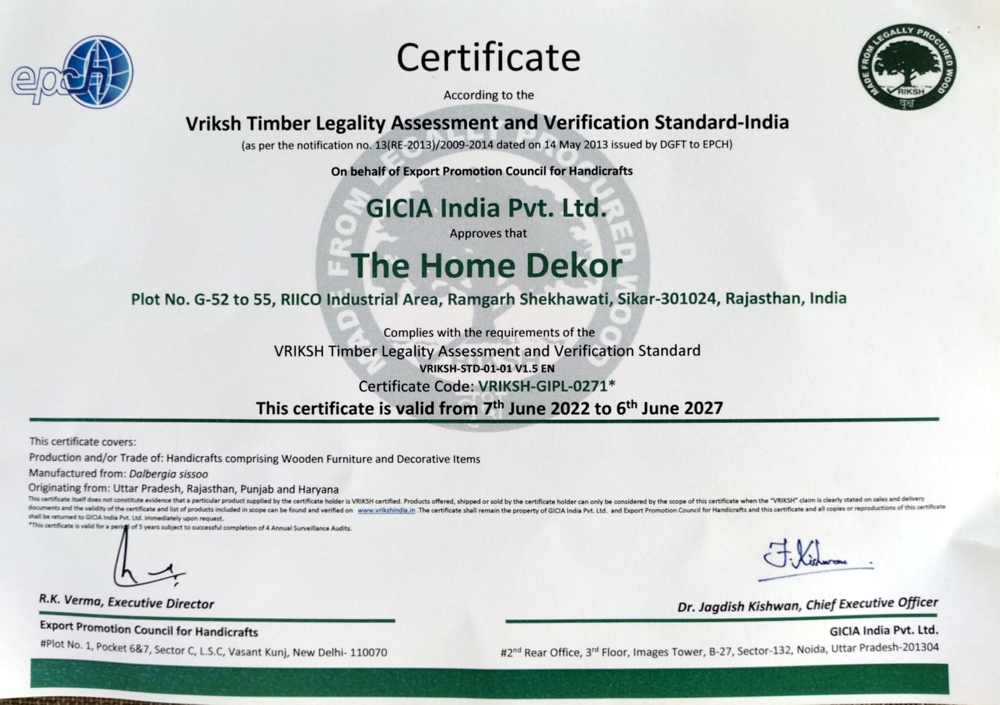 True Impact on our Nature Earth
Every operation has an impact on our planet but we work to minimize it as far as possible. The home dekor has identified the key area of impact on our Earth. And we use timber in the production of furniture raw materials in the production of soft furniture & CO2 free transporting system for our furniture delivery.
All our packaging materials are biodegradable or recyclable.
Child labour
We at the home dekor strictly believe that every child has a right to get an education and that is why we never allow children as labour in our company. And also don't work with companies that employ child labour or forced labour.
Community Matters
The Home Dekor has been doing great work in the field of charity too. We have donated school furniture to Saint Ani Convent School, Pilibanga. And if there is any student from an underprivileged family, we pay his/her school fees in this school.
"Our future event is based on planting 50000 trees,
so our nature Earth gets more green area and we get a fresh environment to live."
Below are our products made with fair-trade material