Our Story
The Home Dekor was founded by 2 school friends named "Jai and Rahul" on 15th September 2009 with a 1200 square foot retail outlet (Both belong to the ethnic state of our country i.e Rajasthan which is known for its artwork and culture"), in last ten year we have grown remarkably fast, with 3 retail outlets in India (Jaipur, Suratgarh & Factory retail outlet) And International Warehouse in Australia (Sydney & Perth), Europe (Czech Republic), Mauritius ( Mr. Dhanraz) and manufacturing in Ramgarh Shekhawati Rajasthan INDIA.
We are bound to provide wooden furniture without harming the natural habitat of our mother Earth. And maintaining artwork and culture of handmade wooden furniture in India & Abroad.
At Global, we believe we have a responsibility to safeguard the environment in the course of manufacturing and doing business. That's one of the reasons we focused on manufacturing high-quality products at a great price and in a sustainable manner. All the timber used in furniture manufacturing is sourced from legal and environment-friendly sources.
The Home Dekor has equipped with a State of Art Production Facility at Factories over 8000 sqm. under the direct supervision of the founders With Semi-automatic to fully Automatic Machines which amplify furniture production maintaining Quality and Quantity.
Being own furniture manufacturing unit's transfer prices are competitive in Retailing and wholesaling both.
Our Experience of 15+ years in furniture, manufacturing makes us simplify and retain our design concept.
Wood Chemical Treatment is done by Vacuum Pressure Impregnation technology ensuring timber free from Borer, fungi, and termites. Treated planks are seasoned properly to minimize the moisture content of wood and avoid cracking and joint opening.
Our products are casually elegant, have a lasting quality, and are made with superior craftsmanship and always with the environment in mind. Inspired by current trends and made with superior and finest materials, our exclusive furniture creates an atmosphere of irresistible comfort, gracious hospitality, and perfect taste.
We do hope you enjoy the website as much as we have enjoyed putting it together and we look forward to welcoming you to Today's way of living…
- Mission - 
Our mission is to see our entire clients (wholesale/retail) blissful and supply requirements to the highest standard and at the best possible price, without compromising on quality or ethical standards.
Creating your houses/ offices more beautiful with our Solid wood furniture, Wooden Furniture for - Study Rooms, Living rooms, Dining rooms, Bed Room, Bars, Hotel Furniture, Restaurants, Decor, and other Wooden furniture collections.
We work to provide long-lasting & quality Wooden Furniture to people in India & abroad.
- Vision - 
 Ethically Grown Brand in Home & Living segment.
Social Vision:
To fulfill our social vision we request you to come forward and be a part of these visions, we alone cannot do it. 
1) Planting 50000/- Trees by 2035 with a 100% survival rate.
Under this vision, we invite you to plant a tree in your home, office, farm, or any other suitable place where you can take care of it, if any assistance is needed then please let us know. If you don't have time or place to do so, then we do it for you, all the planted trees are recognized with unique numbers by The Home Dekor & also known by a name which is given by you, for example, the number starts with 1, 2, 3 and so on, whereas you can name it on your children name, parents name, your name or any other name which you prefer, we give you year on year growth rate details of the plant with picture & your nameplate. This will not stop here you also have to encourage your family and friends, to do the same to save our lives as well as our coming generation
2) Placing 20000/-Nest for birds by 2030.
You can read all our this vision on the blog with this link: https://www.thehomedekor.in/why-nest-is-important-for-our-future
3) Education for All:
Under this vision, we invite you to donate the book to poor or needy children. You can donate a new book and if not new then old books for your children can also be donated. Education for all vision by The Home Dekor starts in the year 2018, I (Rahul Bishnoi) heard from my school teacher about the accident of Mr. Kulvant ( Tractor driver) who lost his hand & due to that his income stops, so in today's world everything need the money and for better education to, He had 2 kids a Son Pawan Singh & Daughter Mandeep Kaur, The Home Dekor takes this initiative and pays the school fees for both of them for 2018, 2019 & we do it so on.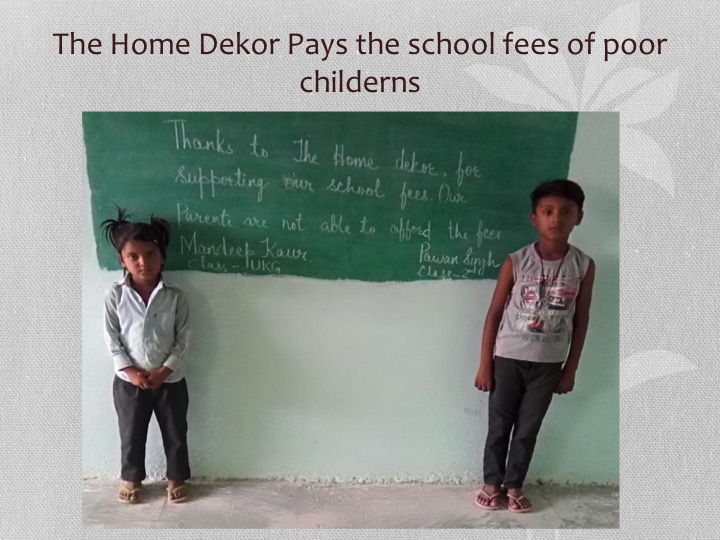 Book donation 2019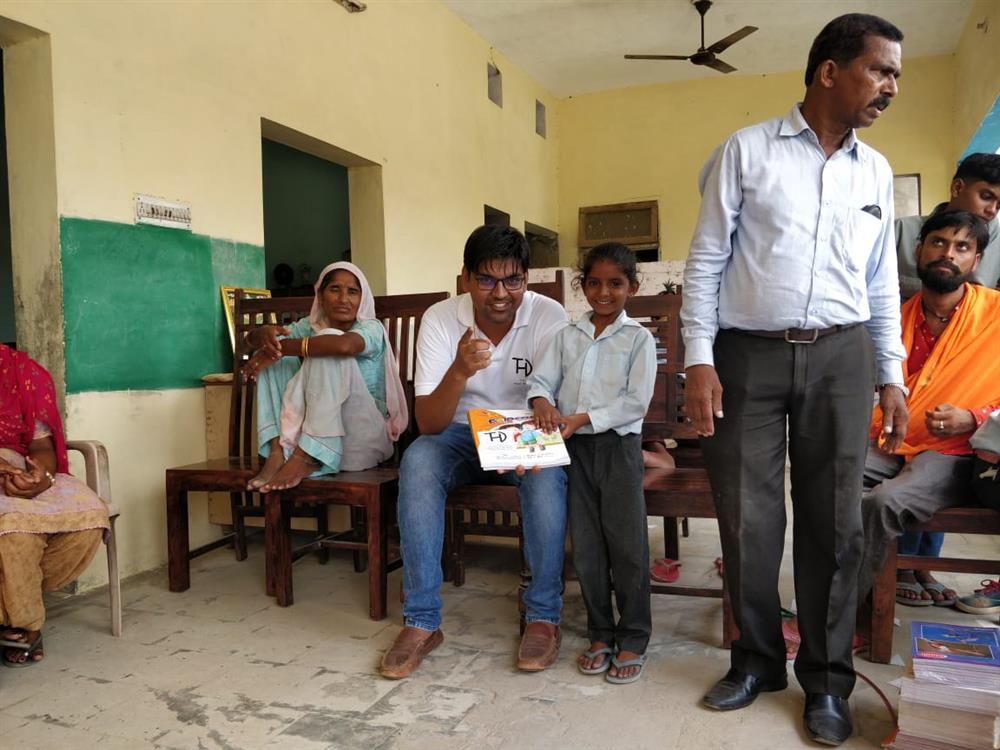 - Design your furniture Online –
We customize furniture as per the customer's designs and dimensions. Tell us what you need, and we will make it for you
-----------------------------------------------------------------------------------------
Our Social Media- (Follow Us for Offers & Discounts)
Facebook Page
Instagram 
YouTube
Twitter
LinkedIn
------------------------------------------------------------------------------------------
For the Latest Update Sign Up Today! 

Retail: +91 86 400 400 29; Wholesale: +91 97 836 899 85
Address: Plot no. G52-55 Riico Industrial Area, Ramgarh Shekhawati.
Pin-331024
Social Responsibility
Jatin Bishnoi